IPC | Nothing Out of the Ordinary

Casa de Todos en La Palomera, Baruta - Caracas Venezuela

2019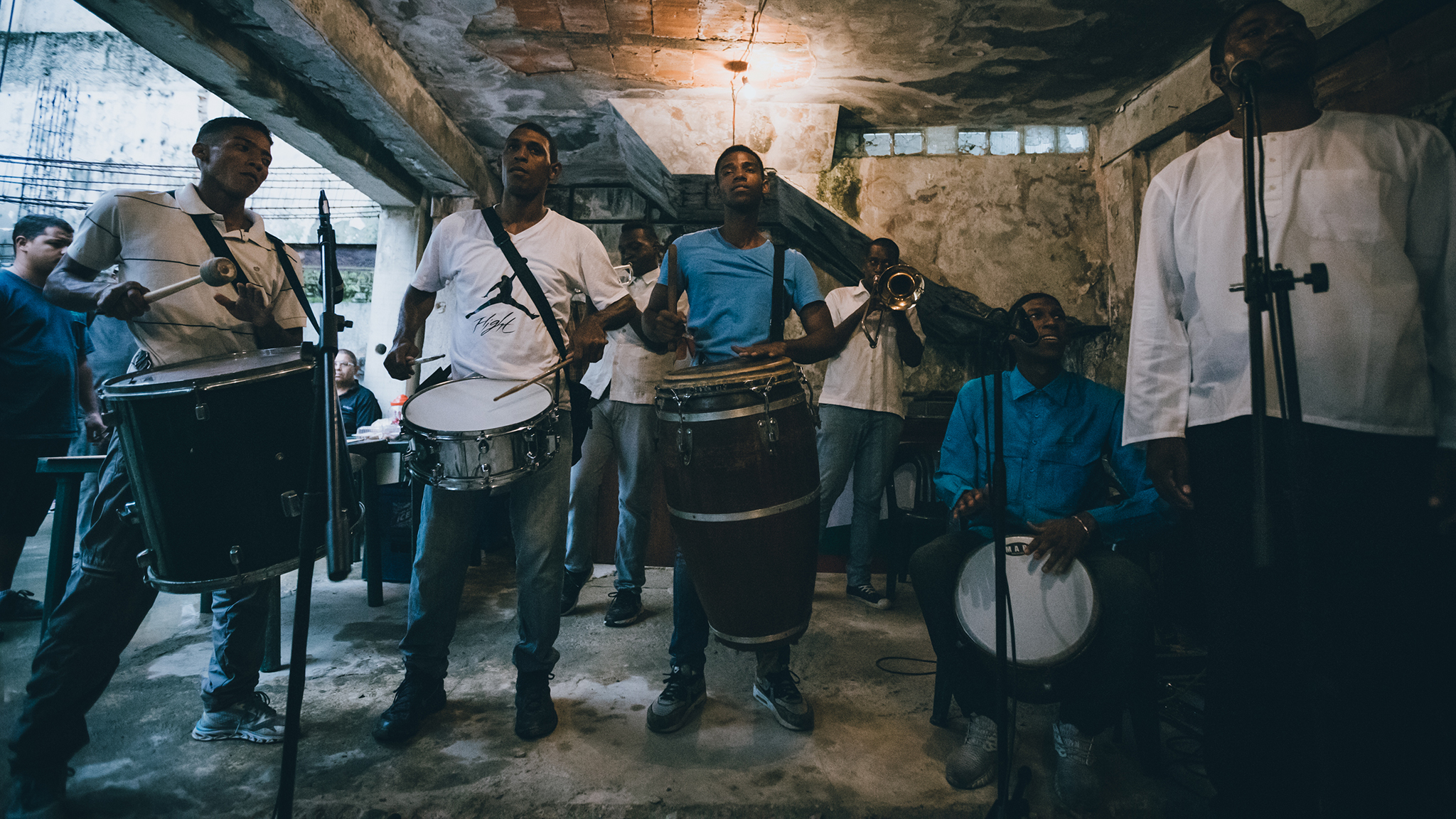 October 12, 2019
Integration process Caracas / IPC
"Nothing Out of the Ordinary" was  an event that took place on October 12, 2019 in a run-down, abandoned structure in La Palomera, as part of the program, Integration Process Caracas IPC. IPC is an educational and cultural program, led by a multi-disciplinary team of journalists, architects, activists, artists, designers, and members of the community, focused on dissolving the negative stigma associated with informal settlements and acknowledging them as essential part of the urban fabric. The community of La Palomera invited the IPC team to accompany them in the recovery and transformation of the abandoned structure. The initiative's first step involved creating two openings to gain access to the interior, allowing volunteers to clean and prepare the site. Two weeks later, the doors were opened to the public for an event that included videos, contemporary dance performances, traditional Venezuelan music, dancing, and sancocho (a Venezuelan stew). Scores of people attended, young and old, from La Palomera as well as other communities within Caracas. Residents of La Palomera rejoiced to see the place come to life and wished experiences like that could occur on a regular basis.
The event was unique in its nature, and yet should be, as the title suggests, "nothing out of the ordinary" in a vibrant, well-integrated and inclusive city. In the context of a country that has undergone severe economic and social hardship over the past years, these expressions become very powerful manifestations of resistance. The "fiesta" is met with little or no resistance. It unites people and allows them to overlook, perhaps even overcome political and social rifts. Furthermore, it can serve as an effective device in fostering a more integrated notion of the city, one that includes informal settlements.
From the entire city to the House of All
A door that opens to everyone's desire
By: Cheo Carvajal
Today, October 12, 2019, opens a door that allows you to enter a space that had remained invisible behind a wall for many years. It is not just any space, but a symbolic one: the one that should have been an extension of the "House of All" and to this day remained in ruins. At some point it stopped being a promise and was forgotten. It was closed, without a blush or shame, despite the need —each day more urgent— of common spaces. It became clear evidence of our difficulty to understand, to agree. It was filled with garbage and became impossible.
The analogy is often made, when speaking of the city, as the "house of all". It has been repeated so frequently that it has been emptied of meaning. A "common place" that does not paradoxically appeal to an idea of ​​what the city has -even legally- in common for all. In general, the analogy is used in order to provoke moral reflection in people of their desire for that common space that houses us and brings together, that we are all responsible for without being its owners, and without an exclusive claim. To put it more clearly: it belongs to everyone, without exclusions.
Nothing more antipedagogic, then, than keeping the doors closed on inhabiting a house at a time when it is most urgent to demand - and be part of - a complete city.
This eighth meeting in La Palomera, marks the "closing" of a cycle, and opens a wider one. With this event "Nothing out of the ordinary" we summon the community and the city to this space in which the common, the usual, should be its permanent use. A diverse use - as diverse are the interests of citizens - that allows us to find and discover that diversity. That is the intention of replacing doors that should never have disappeared, but that at some sad moment were condemned. We are to learn how to inhabit "the house of all" through art as a vehicle for learning. Recognize traditions and identities, but also reinvent them for the future.
This was a house inhabited with heat. Some neighbors remember having been inside. Today we trust the hinges of these doors will restore the flow between what was once considered an intimate space of affections and belongings, toward the notion of something common and socially shared. Therefore, in attempting to open the closed, enable the disabled, the first gesture has been to recover this connection, To open this gap is to allow us feel desire for this house as a common space, while feeling the warmth of what was considered intimate. A space desired, no longer individually, but as collective fervor.
This "House of All" must be much more than a simple statement, much more than a promise received from an authority figure or institution. It must be a common strategic space, lifted from inertia, from resistance and into collective creation. From the perspective of celebrating ourselves as part of a city making process that recognizes its diversity, while identifying and challenging any form of exclusion, open or covert, within it. A space that goes beyond the limits imposed on the barrio, challenging the city to be a part of it.
Today, October 12, 2019, an important day in the agitated conceit of who we are, a wall collapses and a real and symbolic door opens. We have to collectively produce, out of acknowledgement and understanding, new demolitions and new constructions here, in the House of All, in La Palomera, and always with the complete city in mind.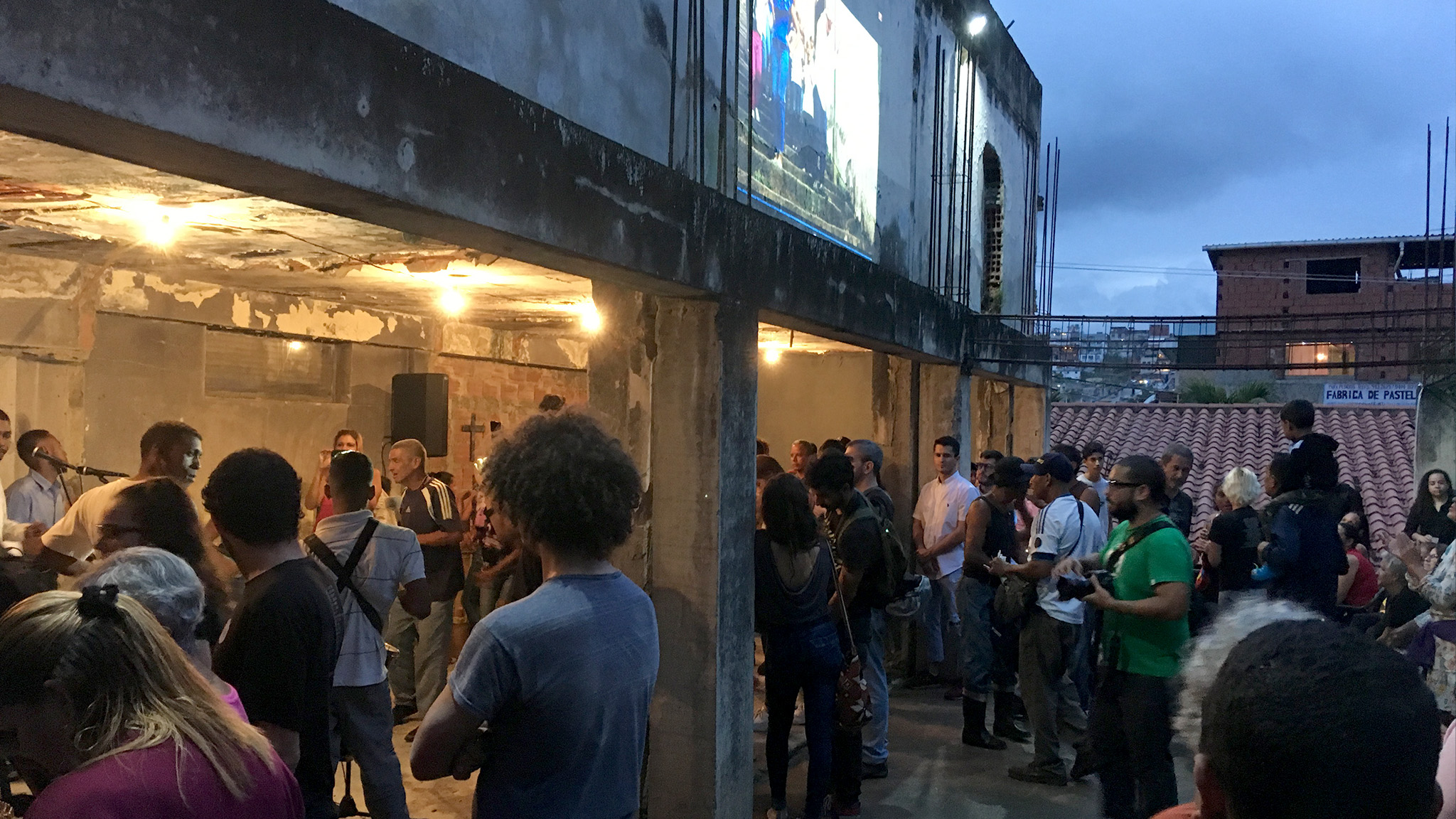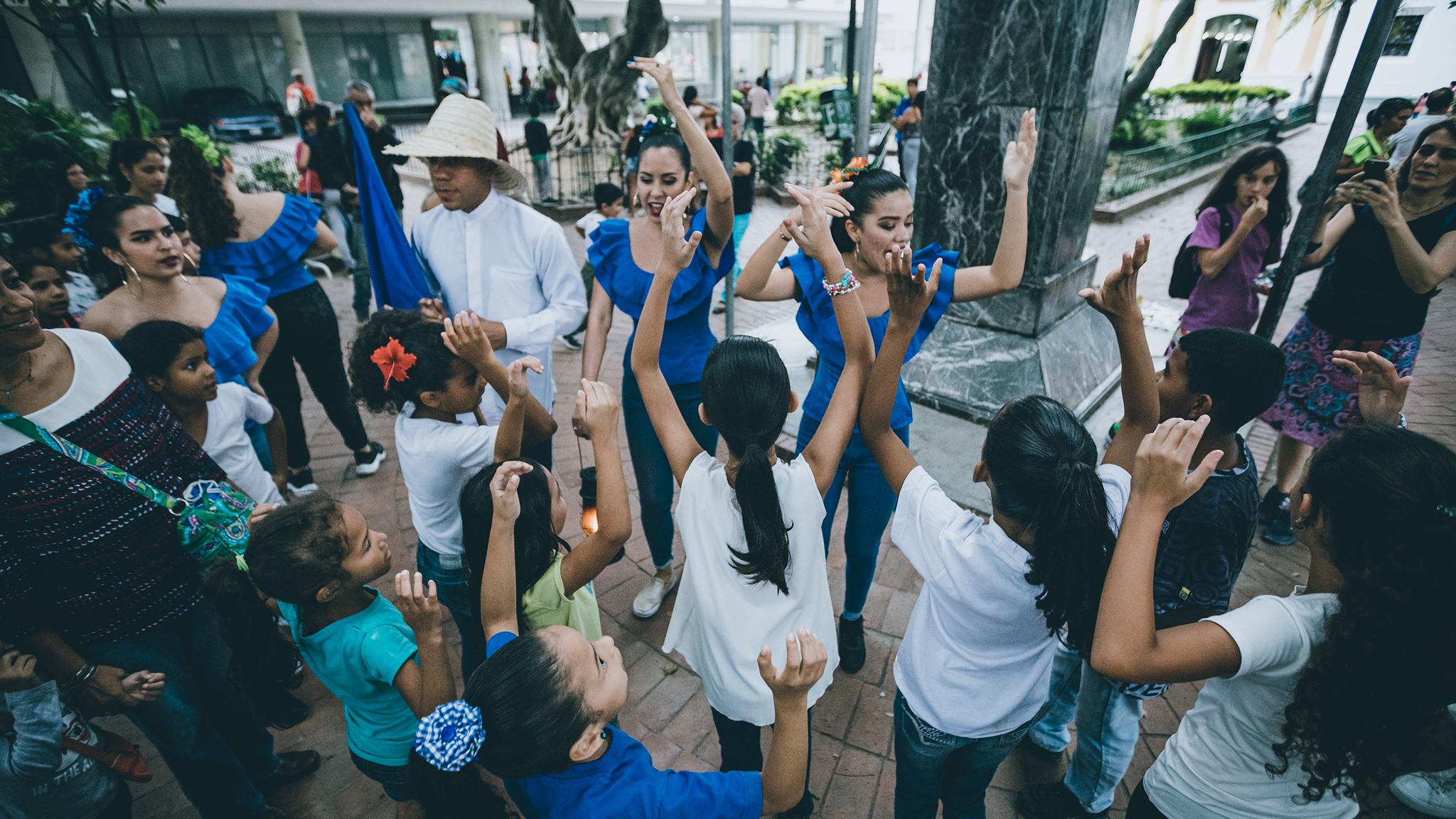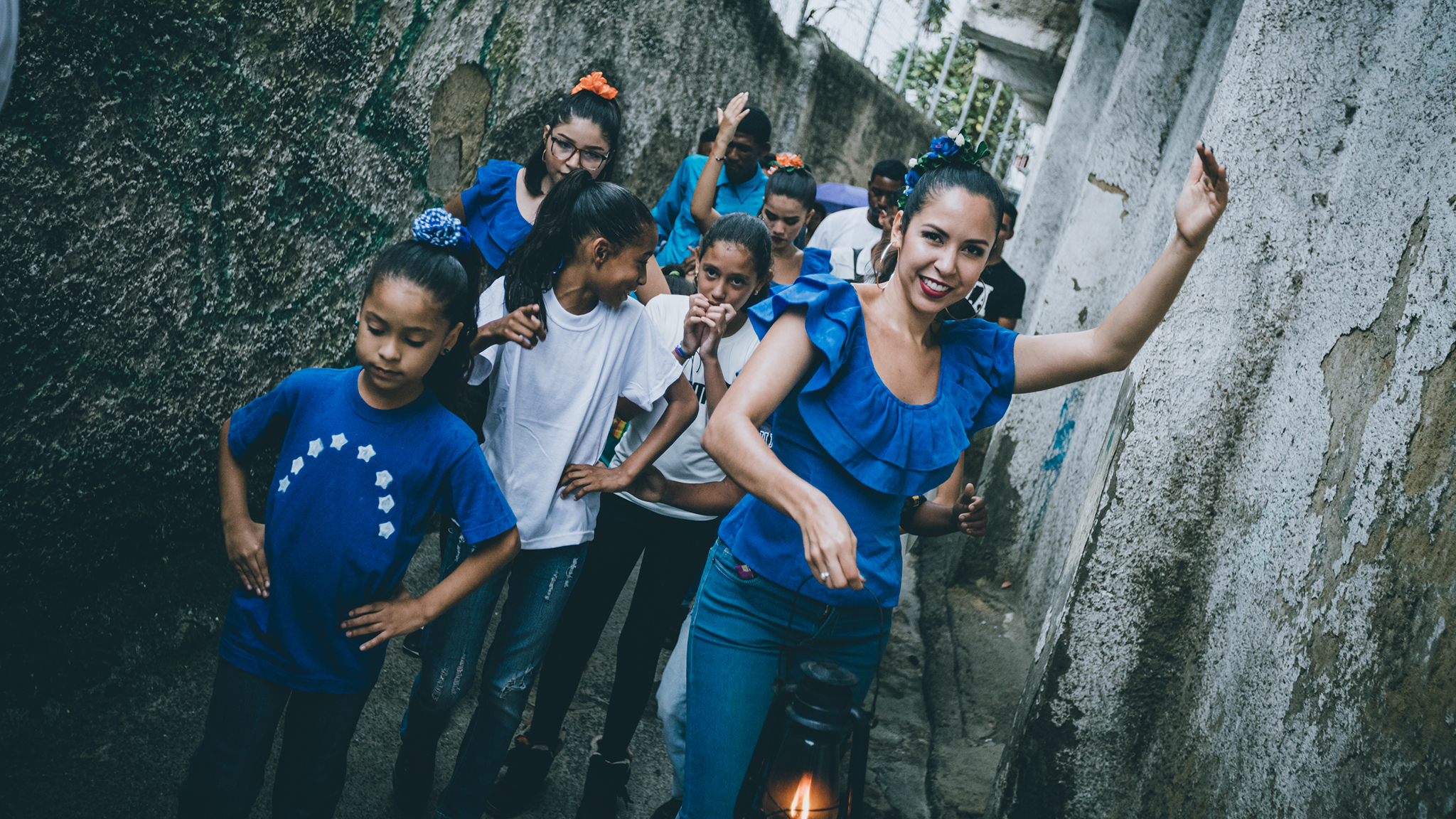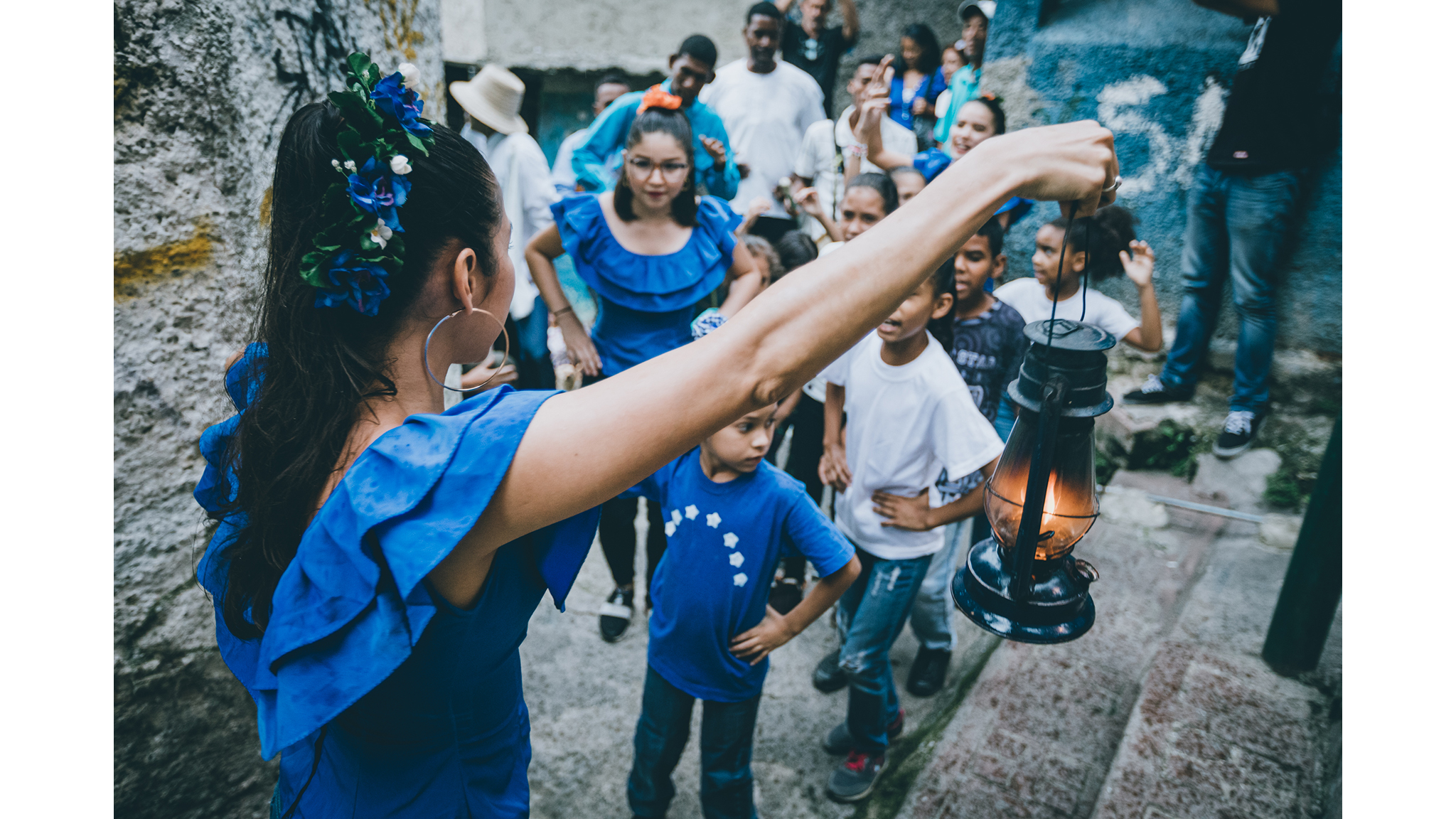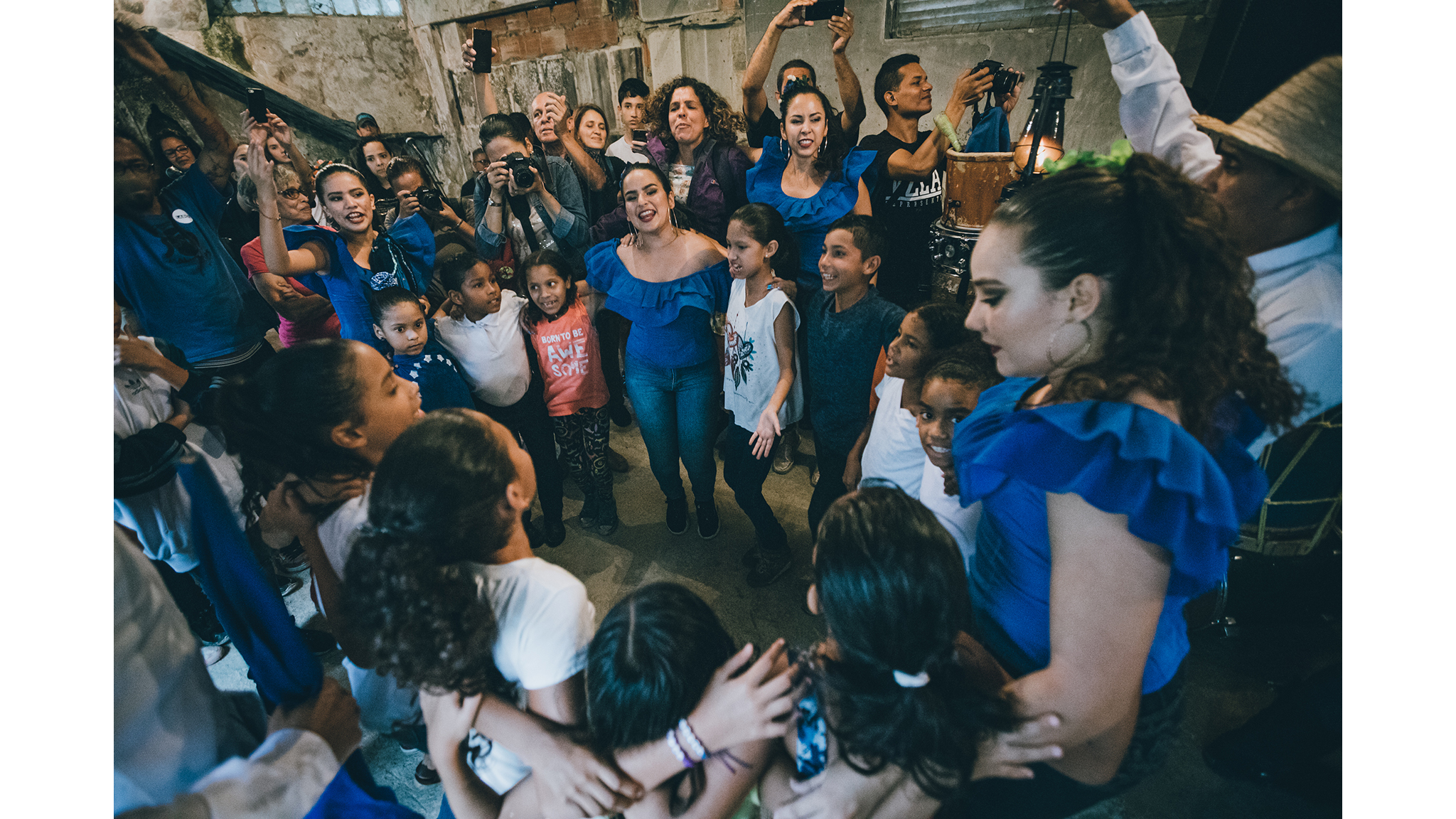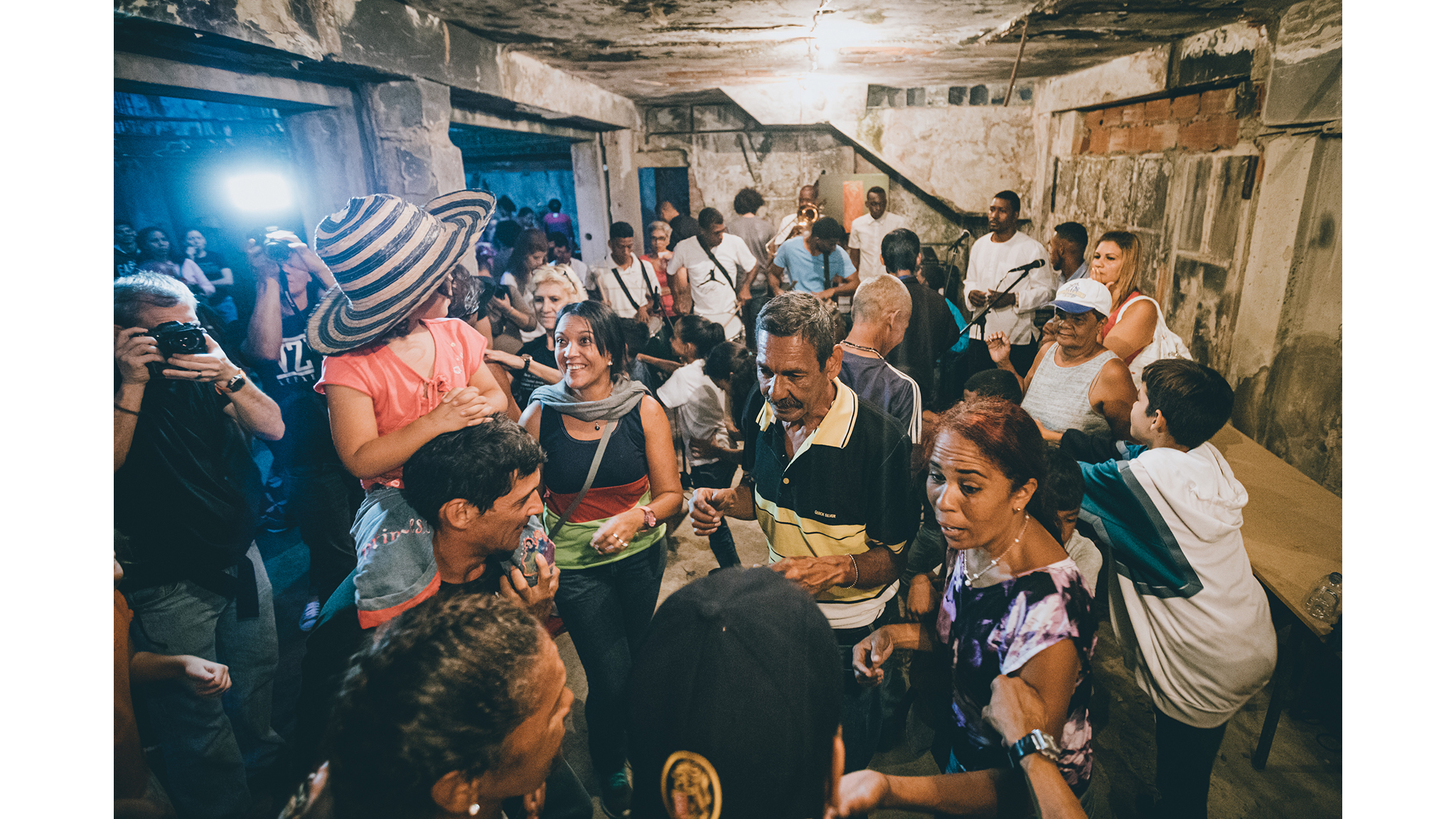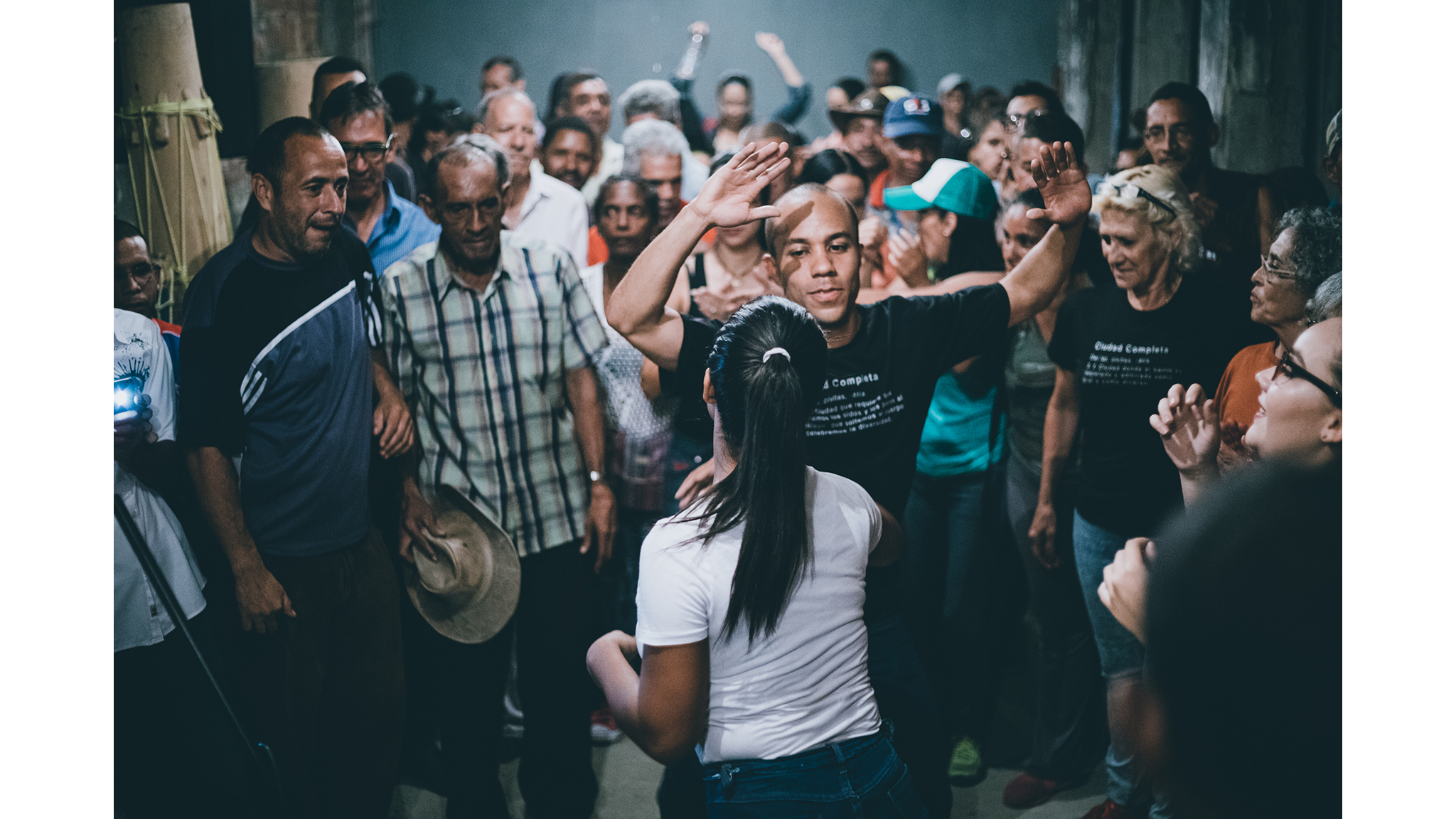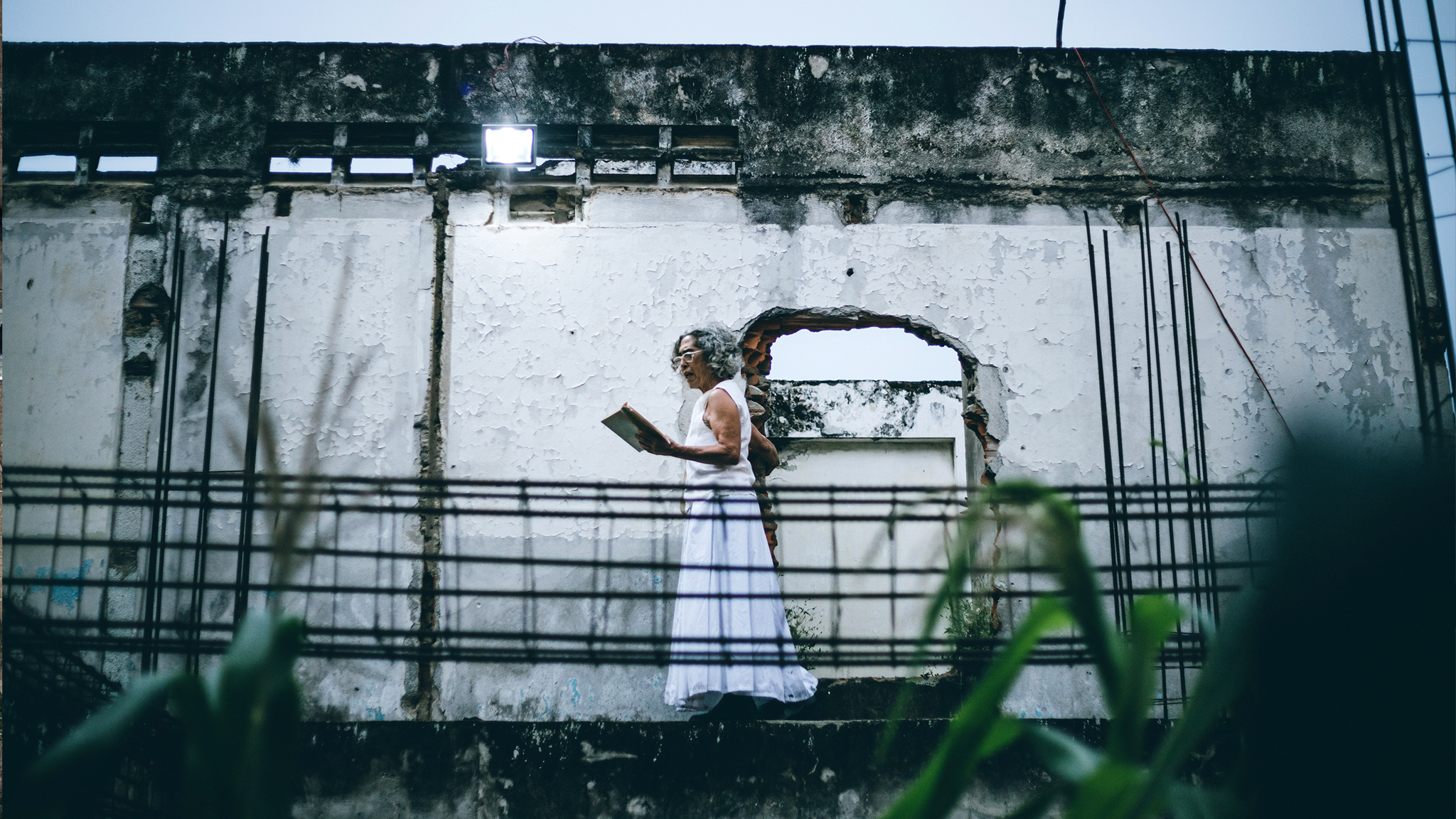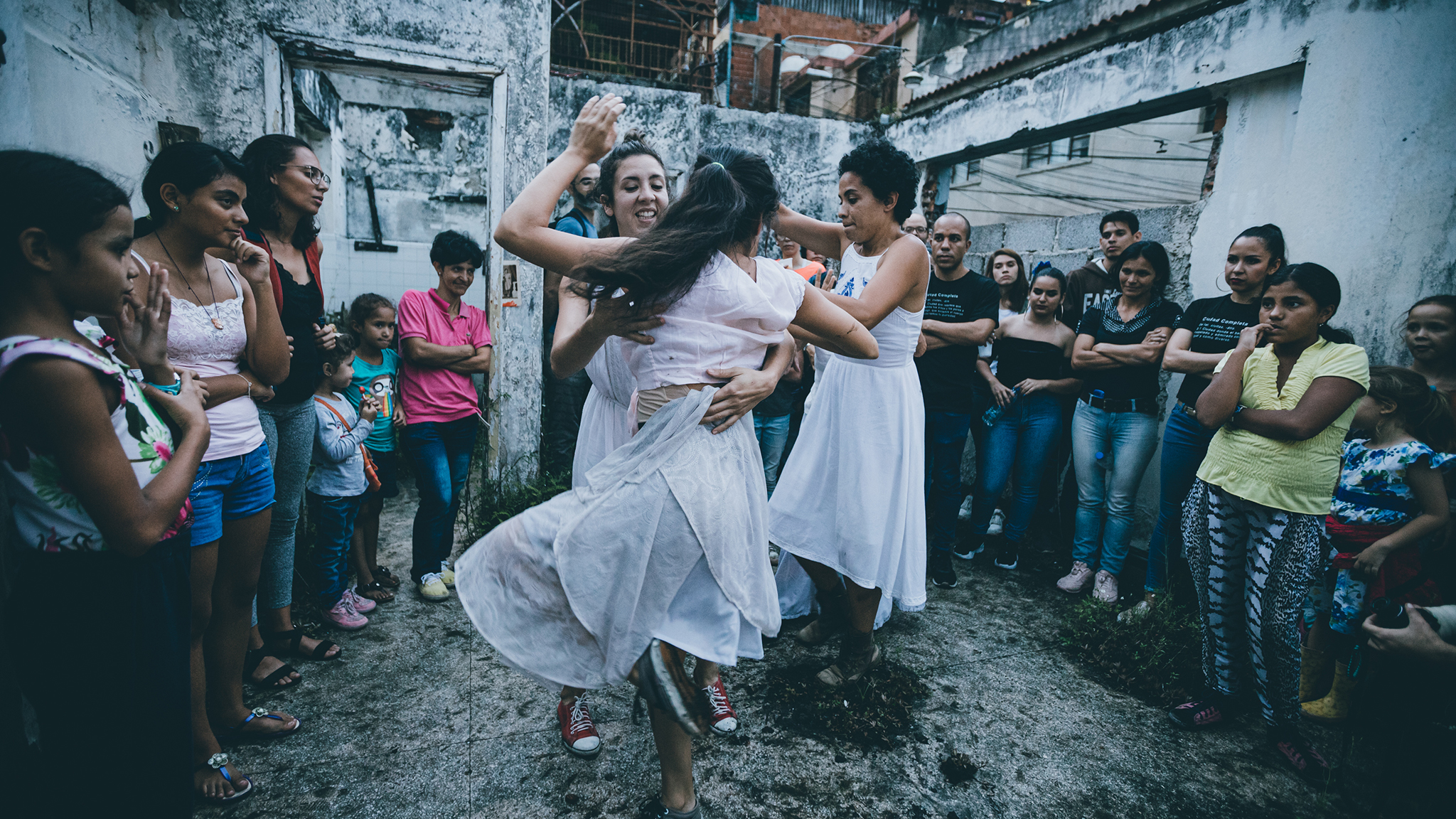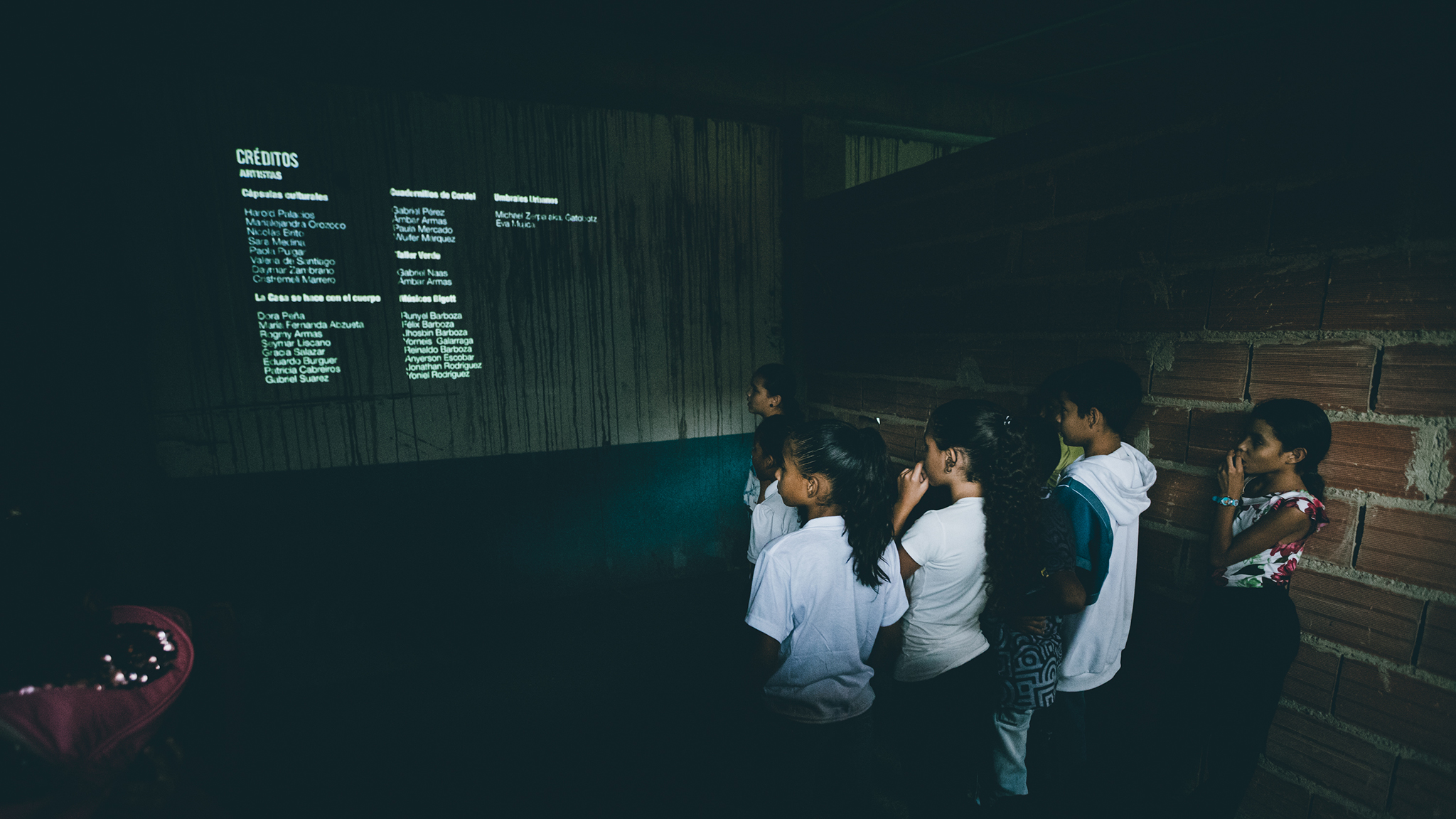 Client: United States Venezuelan Affairs Unit | Team: Enlace Foundation and Ciudad Laboratorio | Photography: Régulo Gómez